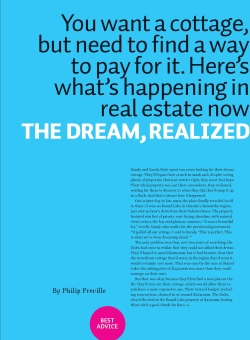 The dream, realized
by Philip Preville
You want a cottage, but need to find a way to pay for it. Here's what's happening in real estate now
Investment Paradise
by Mark Kandborg
The problem with most financial investments is that they're not much fun. They are important and valuable; a great deal of enjoyment can be had when they're liquidated and you (hopefully) have more mon- ey than you had to begin with, but while you possess them, they just kind of sit there quietly working in the background. Recreational investments, on the other hand, are an entirely different animal.
All the Benefits of Lake Living... in Less Than an Hour's Drive
Edmontonians may not realize how lucky we are when it comes to our recreational home ownership options. In less than an hour we can be at our tri-lake oasis west of the city consisting of: Wabamun Lake, Isle Lake and Lac Ste Anne.